Photo Gallery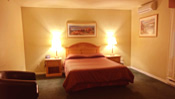 «Latonia»: 1 Queen-size bed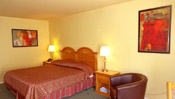 «Labelle»: 1 King-size bed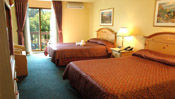 «Ladonna»: 2 Queen-size beds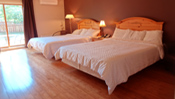 «Latisha»: 2 Queen-size beds
with wood floor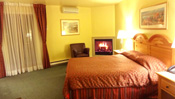 «Kimila»: 1 lit King,
propane fireplace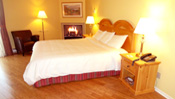 «Kingston»: 1 King-size bed,
propane fireplace, wood floor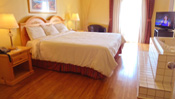 «Oméga»: 1 King-size bed,
whirlpool bath, wood floor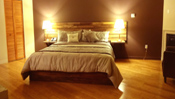 «Tropicana»: 1 King-size bed,
whirlpool bath,
propane fireplace, wood floor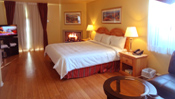 ««Yamaska»: Junior Suite
1 King-size bed, whirlpool bath,
propane fireplace, wood floor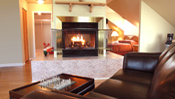 «Romantica»: Luxury Suite
1 King-size bed, whirlpool bath,
wood-burning fireplace, wood floor
Rooms and Rates
Room Type

Promotion

Economical

Regular

High

«Latonia»: Room with 1 Queen-size bed and carpeting floor

78$

88$

108$

128$

«Labelle»: Room with 1 King-size bed and carpeting floor

85$

95$

115$

135$

«Ladonna»: Room with 2 Queen-size beds and carpeting floor
88 $(2 pers.)
98 $(3 pers.)
108 $(4 pers.)
98 $(2 pers.)
108 $(3 pers.)
118 $(4 pers.)
118 $(2 pers.)
128 $(3 pers.)
138 $(4 pers.)
138 $(2 pers.)
148 $(3 pers.)
158 $(4 pers.)
«Latisha»: Room with 2 Queen-size beds and hardwood floor
98 $(2 pers.)
108 $(3 pers.)
118 $(4 pers.)
108 $(2 pers.)
118 $(3 pers.)
128 $(4 pers.)
128 $(2 pers.)
138 $(3 pers.)
148 $(4 pers.)
148 $(2 pers.)
158 $(3 pers.)
168 $(4 pers.)
«Aloula»: Room with 2 King-size beds, carpeting floor and propane fireplace
103 $(2 pers.)
113 $(3 pers.)
123 $(4 pers.)
113 $(2 pers.)
123 $(3 pers.)
133 $(4 pers.)
133 $(2 pers.)
143 $(3 pers.)
153 $(4 pers.)
153 $(2 pers.)
163 $(3 pers.)
173 $(4 pers.)
«Kimila»: Room with 1 King-size bed and propane fireplace

90$

100$

120$

140$

«Kingston»: Room with 1 King-size bed, propane fireplace and hardwood floor

98$

108$

128$

148$

«Oméga»: Superior room with 1 King-size bed, whirlpool bath (hot tub) and hardwood floor

98$

108$

128$

148$

«Tropicana»: Superior room with 1 King-size bed, whirlpool bath (hot tub), propane fireplace and hardwood floor

108$

118$

138$

158$

«Romantica»: Luxury Suite with 1 King-size bed, whirlpool bath (hot tub), wood-burning fireplace and hardwood floor

138$

148$

168$

188$
All rooms are equipped with: refrigerator, air conditioning, heating system, Wi-Fi wireless Internet access, color TV with cable, private bathroom with bath tub or shower, etc.
Rates are per night, per room, based on double occupancy (unless otherwise mentioned); breakfast and taxes are not included..
A supplement is applied for additional occupant.
Taxes extra: Quebec lodging tax of 3.5%, federal Goods and Services Tax (GST) of 5% and Quebec sales tax (QST) of 9.975%.
A minimum stay of two or three nights is required for the holidays' period and some Saturdays (possibility of one night stay, an additional fee will be applied).
Free parking is available for cars. A large parking lot is available for the heavy-duty trucks, trailers and buses etc, an extra charge will be applied.
Pets are allowed in a few specific rooms only; $20 supplement for each animal per day.
In order to assign you the pet-friendly room, it is mandatory to advise us of the presence of your animal.
Rooms are available starting from 4:00 p.m., on the day of arrival. The check-out time is before 11:00 a.m., on the day of departure.
Click here to see our reservation and cancellation policies.
Prices are subject to revision without prior notice.
---
---
Updated: 26-08-2020 © Hotel Alila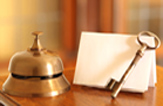 Hotel ALiLA


Phone: 1 450-644-0168
Toll free: 1-844-252-1899

HOTEL@ALiLA.CA
---
Photo Gallery